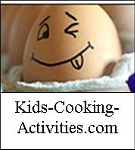 If you've ever Googled for kids cooking recipes, then you've more than likely been to kids-cooking-activities.com or another of Debbie Madson's family of websites focused on family food, activities and fun. With an awesome array of recipes and activities for kids and family, we visit the site regularly and were honored when Debbie interviewed us for her site. We were even more excited when she agreed to share some thoughts with us!
1.) What do you find to be the biggest challenges when cooking with kids? And, how do you work to minimize these challenges when cooking with your kids or in classes?
Sometimes I have to stop and step back and give the kids space. I love to cook so it is easier for me to whip something together, crack an egg for them or help them stir the batter. However, stepping in and doing things for them are things teachers and parents tend to do a lot because we are used to lending a hand. Kids can accomplish a lot more than we think if we give them a chance to just do it.
When cracking eggs or measuring let kids learn by doing it themselves and hold back the impulse to take over for them. There are plenty of things kids need help with but there are many age appropriate kids cooking tasks they can do themselves.

2.) Do you incorporate other learning opportunities for your kids (and other children) when cooking with them? (math, cultural history, chemical reactions, etc)?
Some of my favorite ways to incorporate other learning while cooking is with a world history theme. Picking a country, learning about it and trying a unique recipe from that country tends to be a lot of fun.
Another thing I like to do is taking a recipe and halving and doubling it so they can practice and understand how math comes in handy in real life situations.
3.) Do you find that your kids, and those in your classes are more willing to try foods when they help make them?
Definitely! Food which kids have prepared themselves takes on a whole new meaning. They feel more connected to what they are eating and are so proud of their work, they'll eat it and share it with everyone.
Taking it even a step further and growing your own food and watching it grow and then cooking with it makes a wonderful cooking experience for kids.

4.) We love the simplicity and kid-friendliness of all of the recipes and activities you share–what are the recipes and/or activities that your family would call favorites?
No matter how far we venture in cooking at home, one of my kid's favorites is spaghetti. Often times I make homemade spaghetti sauce and add pureed spinach, carrots or zucchini in the sauce.
Our favorite cooking activities include making homemade ravioli, cinnamon rolls or donuts. Actually anything with dough my kids are there with their own piece of dough to work with.
And there you have it, thoughts on kids cooking activities straight from Debbie Madson of Kids-Cooking-Activities.com.
Thank you Debbie!
Happy Family Cooking Everyone,
Alex, Sophia and Kelly
P.S. Have you 'favorited' us over at Facebook yet? Why not do that right now? 😀